About Us
Vision: Through the Lord Jesus Christ reconciling the races, especially the least-reached globally, to God and each other.
Mission: Equipping and mobilizing ethnic churches, especially the African American and Latino, to reach the least-reached in the city and globally.
Reconciliation Ministries Network exists
to assist the African American and other ethnic churches in global ministry by resourcing missions mobilizers and by ministry trips
to assist under-served national churches in teaching, evangelism, medical care and special projects
to deliver people from financial bondage into giving generously to under-served global mission needs to promote ethnic reconciliation
to evangelize and disciple inner city residents (particularly Chattanooga's College Hill Courts--the "Westside" housing project).
We serve the church by stimulating and facilitating her mission to evangelize and serve the least-reached in the city and globally. We ally with Christian churches and ministries to achieve these objectives. Founded in 1999, Reconciliation Ministries Network is a Bible-believing Christian, board-governed, 501 c-3 ministry.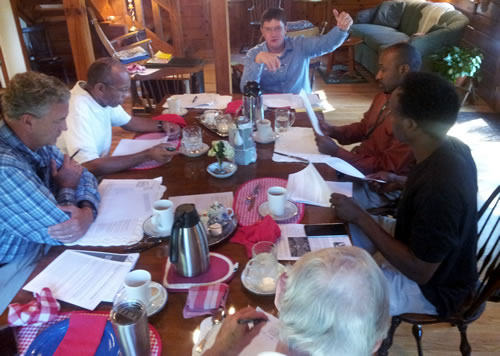 RMNI Board Meeting
By

Jim Sutherland

Jim Sutherland
Statement Of Christian Beliefs
God is One God, Spirit, eternally existing in three Persons and of one substance. He does whatever He pleases, without self-contradiction. He is perfect, omniscient, omnipotent, omnipresent, and love--not willing that any perish.
Jesus Christ is One with the Father, God, Lord, was born of a virgin, lived perfectly, and died as a substitutionary sacrifice for all those being saved. He was raised by the Father three days later, ascended to heaven, and will again return to earth as Judge. The Father grants the gifts of repentance, faith in Christ and eternal life. Salvation is by faith in Christ alone, plus nothing.
The Holy Spirit is a Person and active today, convicting of sin, the righteousness of Christ and the coming judgment. Among the ministries of the Spirit are regeneration of the unsaved, indwelling of the saved as Comforter, and giving spiritual gifts.
God gave us verbal, infallible and adequate revelation of Himself and His will in the Old and New Testaments of the Christian Bible. It is without mixture of error in the autographs, and is the basis for Christian belief and behavior. Its truth is undiminished by the cultural context when received. The Bible is not one revelation of God among other books held sacred, but is the one trustworthy and Spirit-inspired Word of God, and the only source of infallible truth and consequent moral absolutes. Those disobeying those absolutes commit sin.
The Church is the Body of Christ, composed of all the regenerate, to glorify God, and build up its members for the service of God.

The Church does not exist simply for the comfort of its members, but is a pilgrim body in mission to the glory of God, best achieved through acts of worship, witness and love. She seeks new worshippers by sharing the Good News with people of all cultures, near and far. Each Christian should esteem other Christians more highly, regardless of ethnicity.
The Church is the basis of the enduring work of God.
Satan is the personal embodiment of Darkness, and a fallen angel for whom hell was created. He exists to destroy the work of God and God's people. Christ came to destroy Satan's work. Those who die who are not in Christ are eternally lost in hell, because of sin. They will be in conscious torment in the Lake of Fire, away from the presence of God and without hope. The redeemed will experience the extreme opposite, enjoying the presence of God and pleasures forevermore.

A Christian will sin, but has access to the Father for forgiveness by confession. No sin can separate a Christian from God's salvation, once bestowed. Apart from Christ we can do nothing, but through Him we can do everything God wills. Because of the supreme power of God, worship, petition and intercession are prior to fruitfulness in His service.
By

Jim Sutherland

Jim Sutherland
Reconciliation Report Newsletters
2022
2021
2020
2019
2018
2017
2016
2015
2014
2013
2012
2011
2010
2009
2008
2007
2006
2005
2004
2003
2002
2001
2000
By

Walt Robertson

Walt Robertson
Philosophy of Ministry
Concise statement:
To glorify God, through the power of the Trinity, by doing what He puts upon my heart, using spiritual weapons together with the most effective tools and networks available.
God is good (alone) and great, and greatly loving (Matt. 19:17; Mark 10:18;Ps. 145:3; Titus 2:13; Ps. 107:43; 108:4; Eph. 2:4)
God does whatever He wants (Ps. 115:3; 135:6; Dan. 4:35) and has His own secrets (Dt. 29:29). He will often do the unexpected.
There IS no other God (Is. 45:5-6,22). I will go to Him for my needs.
God wants His children to serve Him as ministers (2 Cor. 5:18). He has only sinners with whom to work.
God is worthy of my whole life, and I exist to love and glorify Him (Matt.22:37-40; 1 Cor. 10:31).
I can do nothing of value to God apart from Christ (the Vine) (John 15:1)

I can do everything with Christ (Phil. 4:13)

I am obligated to maximize every gift God has given me to the fullest--to go as far as possible (1 Cor. 12:6, in proportion to faith; Matt. 25:20-21).
I can do a limited number of things well, therefore I must network with others who are experts in their fields for the work of the Kingdom. I must reciprocate as occasions arise.
More glory is brought to God by excellence (Ted Ward; Matt. 5:48;1 Cor. 10:31), than by mediocrity or failure. However, my strength is in Christ, not in myself—which is the center of weakness (2 Cor. 12:9-10).
Knowledge is power toward excellence (Prov. 10:14), so I will invest in information. The only fully trustworthy "truth", however, is found in the Scriptures.
Life is short (James 4:14). I need to use the best technology needed to assist me to accomplish the task. [I am on a "wartime" economy (Ralph Winter) spending whatever is needed on essentials for victory.] Try to accomplish at least two things at once (multi-tasking).
Any competency in ministry comes from God (2 Cor. 3:5-6).

God has all power, wisdom, resources, and goodness, and I do not (Ps.24:1; 50:12). For Him the nations are a drop in a bucket (Is. 40:15). He gives orders to the morning, and calls out the constellations (Job 38:12,31-32). He both opens and closes doors to ministry.

Therefore: I will go through doors He opens, if accompanied by faith and peace (1 Cor. 16:9; 2 Cor. 2:12-13; Acts 16:6-10; 18:9-11; Col. 3:15).
His provision will be an indication of His guidance. I will not go into debt, which is going beyond the provision for His will. I will pray for God to burden people with my particular needs (2 Cor. 8:5,16). His Grace provides financial support (Act 14:26; 15:40; 2Cor. 8:1-2,7; Ps. 81:10).
God will condescend to give wisdom (Prov. 2:1-6; James 1:5).

I must be connected to the Vine and abiding in close fellowship with the Father, using means of grace: prayer, Scripture, fellowship of believers

Not a little prayer. Ministry flows from interaction with God in prayer. My relationship with God is prior to that with others, and far more essential.

God gives "favor and honor" (Ps. 75:6-7; 84:11), and gives grace to the humble (Jas. 4:6; Is. 66:2b), but becomes an adversary to the proud (James 4:6). I do not want God opposing me. He will not share glory (Is. 42:8). I will not try to assess my reputation (search out my "glory" - Prov. 25:27). But I will do what must be done to maintain a good name, which can be lost in a moment (Prov. 22:1)
God does the work through us (Acts 14:27; Phil. 2:13). He is our adequacy (2 Cor. 3:5). I need to trust Him, not people (Jer. 17:5).

I am God's bondservant, here to serve Him—He is not here to serve me (Phil. 2:5-7) I am an errand boy. There is nothing too small nor too big for God to ask of me. He is Lord. The issue is God's will, not my preferences.

I must be led of the Spirit to know the specific errands (Rom. 8:14).
I am servant of all (Matt. 23:11). When I serve the "least" brother, I am serving God (Matt. 25:40)
Others are more important than I am (Phil. 2:3), but I am to fear no one (Prov. 29:25; Ps. 27:1).
The ministry is for the sake of the Name of Christ (3 John 7), not for the advancement of my own name or ministry.

The heart of ministry is relationships. This is how God connects with us, especially in the person Christ. Those who are saved are those who know (ginosko) God (John 17:3; Matt. 7:23). Relationships are built upon trust, and good will. Trust is built upon a good name and keeping your word. I will sometimes fail at this, and must rely upon God's grace. Good communication is very difficult, especially cross culturally, but important. I will try to reconcile to those who I've offended. I will seek to be kind, since kindness is desired in a relationship (Prov. 19:22), loving and compassionate.
I still sin (1 John 1:8). Therefore, I need accountability to others, and to listen to correction (2 Cor. 8:21; Prov. 12:1). Accountability includes the stewardship of funds, time and other resources.
Since we are obligated to do what is right both in the sight of God and men, clear and honest accountability will be provided for the use of funds.
Due to God's sovereignty and goodness, I can with integrity give thanks in all circumstances (1 Thess. 5:18; Ps. 50: 23).
God protects me (1 John 5:18; Ps. 91:14-16; 138:7-8; Heb. 11:32-34). But He may choose not to deliver me from death (Heb. 11:35-38).
The bottom line in ministry is God's grace (1 Cor. 15:10). God's grace provides spiritual gifts (1 Cor. 12:7). The most effective ministry will be in the direction of using those gifts. Only by grace can we serve acceptably. Since I really don't know how I'm doing, I will rely upon His communicated assessments. The goal is to please and glorify God (2 Cor. 5:9).
By

Jim Sutherland

Jim Sutherland