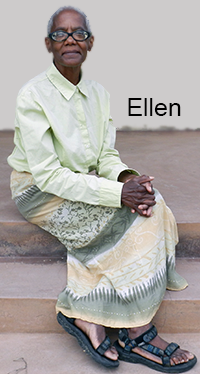 After three years of Covid delays, including the RMNi team going in June without me due to my positive test, I finally reconnected with friends and ministry partners in Juba, Sept. 9-18. Four checked bags made it to Juba, with 1,000 pair of reading glasses, and 13 Proclaimer solar-powered audio Bibles, with 2 gift laptops and a new smartphone in carry-ons. We were threatened with a $1,000 bill at customs, but got through with only 3 pairs of reading glasses provided as goodwill.
I don't like to travel internationally alone. The Lord provided the company of four energizing Christians on Ethiopian Airline--I normally meet non-Christians. Ellen Fox, 12-year missionary to Lohutok, came to Juba via MAF, which retrieved her at her village landing strip on a "training" flight, after bad weather prevented getting her the day before. We provided a physical exam, and conveyed gifts. She's still in good health, after years in her remote village.
Agape Mission is RMNI's overall agent in Juba, receiving and spending project-related funds. These include oversight of ministries and fund

s provided by Lookout Mtn. Presbyterian Church (LMPC) at the Internally Displaced Persons camp (formerly supervised by the UN) in Juba. I visited Hope Secondary School, which currently has 234 students within the camp. Two of their teachers were formerly students, and 508 students in the last 6 years "reached university or college level". The physics teacher is impressive. They will need to relocate when the camp is shut down, perhaps within a year, and are praying for land. RMNI is providing $1,100 for renovations to bamboo walls and blackboards. We met with 11 chaplains also supported by LMPC. They, like the teachers, live at the camp and receive a modest monthly stipend to supplement other income.
Michael, who directs Agape, took me to visit Kolorinda. She is one of about 65 women provided with a hen and a rooster through gifts of Cedine Ministries and RMNI donors. She returned both fowl, and now has poultry she feeds, while a hen sits on a clutch of 9 eggs. I asked Agape's bookkeeper, Manuela, to select a souvenir for a friend at the Westside. She returned with a beautiful purse. Keisha, the recipient, was ecstatic, since she, unknown to us, had been looking for a purse. At Agape's office are Bibles to be distributed, donated in part by Breath of Life Global Missions.
Dr. Aila Tasse, founder of Lifeway Ministries International www.Lifewaymi.org, flew in from Nairobi to offer partnership with his ministry to leaders of Equatoria Presbytery, in order to reach unreached peoples. The next day I taught a 5-hour seminar on global missions to about 50 church leaders. Attendees stayed an extra 30 minutes at the end to reflect on what was presented. We'll see what develops.
Buluk Eye Clinic is the nation's only public cataract surgery facility. We partnered with them and Dr. James Guzek, an ophthalmologist from Washington state, in 2018 to perform cataract and trachoma surgeries at the Malakal UN refugee camp. Dr. Guzek sends occasional gifts to supplement salaries of staff, and RMNI adds to them. Eye surgeons make $20 per month, and eye nurses make $10, which usually comes 3-6 months late (these figures are accurate). The entire staff of Buluk gave a joyous, gift-filled welcome, which I received for Dr. Guzek, as well. Just showing up in Juba meant much.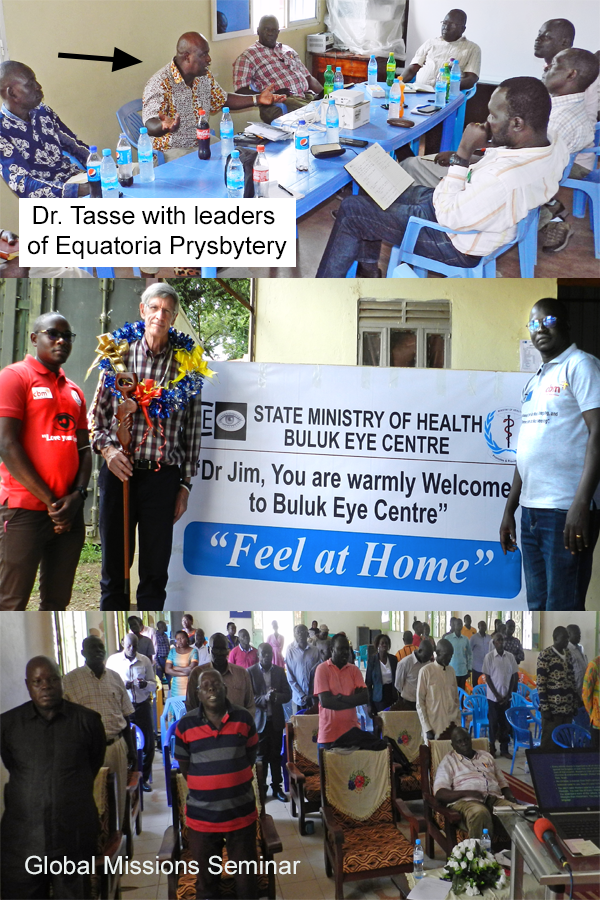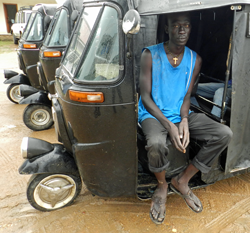 We visited Grace Theological College (GTC) staff and students. RMNI has conveyed funds providing 7 motorized rickshaw/cargo bikes, as well as funds for 6 of these units for Agape Mission, to help sustain operations. Drivers, an impressive group, brought their vehicles to meet me. One works from 7 am to 9 pm five days a week. I visited GTC's Saturday class, for students who can't come during the week. Sixty-four are enrolled in various study programs.
I return even more impressed with the Christian character and competence of our ministry partners.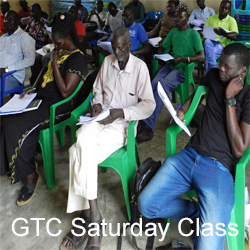 These crucial qualities are a gift to find. The operations of GTC, Agape Mission, and Hope Secondary School have matured and prospered, by God's grace.
Many are afraid to travel to S. Sudan, due to the level 4 "Do not travel" advisory of the US State Department, and news. After 15 trips to S. Sudan, we've had no security problems, by God's keeping. Please consider joining us on our next ministry trip to Juba. We can use dental and eye care professionals, those skilled in trauma counseling, and other specialties. We try to use your spiritual and vocational gifts. S. Sudan needs just about any kind of assistance. Don't let fear control a decision, but let God guide you. If going is not feasible, we need prayer support. Email me if you'd like to be added to a list of special RMNI intercessors. Thanks to our donors who made this trip, and many of the ministries described possible!
Jim