South Sudan 2015 Trip Video
Category: Short-Term Missions
Short-Term Missions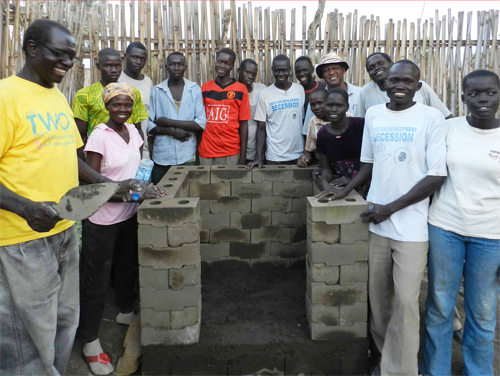 We currently sponsor working trips to Southern Sudan and Uganda. Please click on a location for more information.
Typically our teams have youth ministry, crusade and personal evangelism, medical ministry, and separate seminars for male and female church leaders. We do our best to arrange opportunities according to the gifts represented on the team. In addition, we now have opportunities for builders in S. Sudan, using the new interlocking block machine that is now in Torit. This is a different style of construction from that in North America, but not difficult to learn.
The Uganda and S. Sudan teams travel together from the USA, and operate from the same guesthouse near Kampala, Uganda. Our Ugandan ministry partners are within the Africa Christian Training Institute/Ministries. RMNI has led eight team ministries in Uganda and can accomodate opportunities of most kinds and locations in Uganda.
Ministry in S. Sudan is more difficult due to heat and lack of infrastructure, and requires good physical condition of team members. Ministry in Uganda is not as physically demanding, typically, but will still stretch one's faith and comfort zone.
Short Term Missions and You
Each Christian is commanded, not invited, to support ministry to all the world. We can go, or pray and give. As we go Jesus never leaves Us (Matt. 28:19-20). Today the division between home and foreign missions is increasingly blurred. This is especially true concerning minorities living in the US. Jonathan Bonk has said that everyone who was ever born was born on the mission field. Each people and culture is up for grabs as a mission field, with EVERY generation.
The issue is, where and how does God want me to serve Him? If He has us, WHERE we serve is a minor issue.
God wants us to be faithful to our place of service: "Martin Luther said, 'If I profess with the loudest voice and clearest exposition every portion of the truth of God except precisely that little point which the world and the devil are at the moment attacking, I am not confessing Christ, however boldly I may be professing Christ. Where the battle rages, there the loyalty of the soldier is proved and to be steady on all the battle front besides, is mere flight and disgrace if he flinches at that point." (quoted by Francis Schaeffer, The great evangelical disaster, The Complete Works of Francis Schaeffer, Vol. 4:333).
Here are testimonies of the impact of short-term mission trips
Why Short Term Missions?

Short term missions is probably the quickest way to light the afterburner on your spiritual life. Because we deliberately make ourselves vulnerable, we learn to trust God more in a completely different culture, because we must. Much like a refugee, we sense far more our need of the Lord on the field than we do at home. God gets our attention and works on us in new ways. He will sometimes enlist us in a secret course of study, such as Humility 101; 201, etc.
"God's invitation for you to work with Him always leads you to a crisis of belief that requires faith and action. Obey as God sends you where He can best work through you to accomplish His mission." The experience of Hattie Riley.
"You must make major adjustments in your life to join God in what He is doing. Expect God to empower you as you make the life changes that open you to co-labor with God according to His ways."
"You come to know God by experience as you obey Him and He accomplishes His work through you. Expect God to guide you on His mission to reveal Himself and to reconcile a lost world to Himself." (Henry T. Blackaby and Avery T. Willis, Jr., "On Mission with God," Mission Frontiers, Jan.-Feb. 1999, p. 32).
We can learn about our spiritual gifts and otherwise hidden God-given abilities. We may be equipped to do more than we realize in the more comfortable home environment. We might be able to transfer more of our experience than we thought into a different culture. E.g.. Church planting in Bubukwanga.
We often gain new boldness to serve Christ here at home.
We may not have the opportunity or the calling to fulltime mission service.
We learn about our own culture by experiencing another one. We learn about our perception of time, of social distances, of values, of the level of technology, of the spiritual "temperature" of our own culture. We see more clearly both the godliness and the ungodliness. E.g.. Traffic patterns in Uganda, and materialism (paradise on earth) in the West.
We become a catalyst to our own local church to become more involved with the needs of others, as they give and pray and learn.
International travel is relatively easy and affordable. Local churches generally endorse and help raise support.
English is the lingua franca of the world at this moment in history. Over twenty percent of the world's population speaks it (Joel L. Swerdlow, "Global Culture," National Geographic Vol. 196, No. 2, August 1999, p. 5). If you can do nothing else besides speaking English, you have a missionary vocation.
Your unique contribution of skills and spiritual gifts is needed, probably on many mission fields.
You may have already completed one career, you are financially secure, and you want a fulfilling ministry.
Short-term missions may well show us that God wants us in fulltime missions. My own research found that 40% of African American missionaries that I surveyed were motivated to get into missions due to a short-term trip.
We can act as a liaison between missionaries and the home church.
We can be used of God to lead people to Christ, which has eternal consequences.
With the help of missionaries and/or the national church on the ground to line up our itinerary, we will probably have more opportunities for ministry than in a year in the US.
Financially, our whole trip will probably cost less than support for a full time Christian missionary for the same duration.
Your trip may encourage other lay people to go. Missionaries are good at recruiting missionaries.
When you cannot go personally, you will be more likely to support others going.
We have a unique opportunity to experience the oneness of the church universal.
Because absence often "makes the heart grow fonder," when one spouse leaves for short-term ministry, a new appreciation often develops for each other. Short-term missions is usually PowerAid for marriage.
Short-termers can be a great asset to fulltime missionaries in the field. One missionary said that some who stayed with her family for two years brought "freshness, willingness, innocence, and enthusiasm" to their work, and were "hands and feet" of the missionaries to do necessary tasks not directly related to ministry. They also generate prayer and other support of fulltime missionaries.
Short-term missions often leads to fulltime missions. In my research into African American missions, about 40 percent of missionaries surveyed were motivated to go on the field by short-term mission trips.
Short-term missions can generate new or greater church missions support and enthusiasm in the sending church.

Short-term Trip Objectives:

Learning trips—researching needs, assessing ministry effectiveness
Confirmation trips, to see if we're called to full-time CC ministry
Construction projects. However, sensitivity to the local situation is very important. If high unemployment is prevalent, we do not want to take desperately needed employment opportunities from locals. And we do not want to take away a sense of ownership. On the other hand, Christians from various ethnic groups doing manual labor together can be an extremely powerful message to the nationals.
Overseas study trips
Drama ministry trips
Medical/dental ministry
Donated expertise trips. Consultants in education, medicine, business, agriculture, community health, hydro project, etc. can be a great asset.
Teaching ministry
Trips for spiritual awakening. There is perhaps no better way to intentionally learn to trust God.
Social justice trips
Event-oriented trips (e.g. year 2000 in Rome)
Researching unreached people groups
Intercessory prayer trips, including "prayer mapping"
Church planting trips
Ministry to women
Ministry to orphans and disadvantaged children
Public health--water projects, for example
Missionary children teacher
Exposure trips, to raise missions vision
For encouragement. For example a missionary or oppressed women or children would be encouraged by your coming to be with them.
Unity trips, demonstrating ethnic unity among the parts of the Body of Christ, and so demonstrating the deity of Christ (John 17:21).

Some resources for short-term trips:
Category: Short-Term Missions
Testimony of God's Deliverance from the Khartoum war between the government armed forces and rapid support forces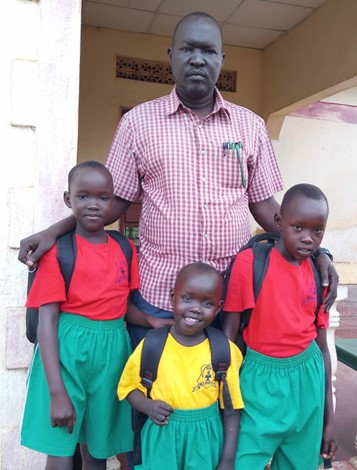 "I have told the glad news of deliverance in the great congregation; behold, I have not restrained my lips, as you know, O Lord,…" (Psalm 40:9-10)
I am Rev. William Jada Daniel Loro, the current moderator of Equatoria Presbytery in the Presbyterian Church of South Sudan.
Why I was in Khartoum, Sudan
I have been treated for the Hepatitis B virus since 2015. According to the doctor who first prescribed the medication in Egypt, I should have regular checkups at least every 6-12 months to monitor the effectiveness of the medication and to do an abdominal scan. I was late for my checkup due to financial constraints. By the grace of God, the church where I am serving helped me with money to do the checkup in Khartoum. I left Juba on Saturday, the 8th of April 2023, one day before Easter, reaching Khartoum that evening. On Sunday morning I celebrated Easter in one of the Episcopal churches near where I was staying. The following day I went to the hospital with my friend Michael Angelo Modi. The checkup went well, the doctor commenting about the really good test results. The only test remaining was the viral load, which the Al-Faisal specialized Hospital doesn't have, so the doctor sent me to the nearby Al-Fidel Hospital. There I was told to return after one week to collect the results. So on Saturday I went to Khartoum city to meet my friend Michael, and to get the results. At 9:00 am I received a call from where I was staying that there were gunshots in the Souba area, where Rapid Support Forces (RSF) have been based. Before the conversation finished I heard gunshots in the military command site not far away. Immediately people begin to run in different directions, especially to bus stations. I and my friend tried to reach our bus station. Unfortunately, since drivers had fled to safety, there were no busses. We wondered what to do then. We ran to Khartoum Christian Center (KCC), a Pentecostal church. KCC was the center we used to worship in before the separation of South Sudan from Sudan in 2011. It is closer to the presidential palace than to the RSF command area. The area was controlled by the RSF, but the Sudanese Armed Forces (SAF) was fighting them. We knocked on the gate, but the gate keeper did not open for us. Near that church there was another hospital. Someone from the hospital saw us stranded at the gate and called us to enter the hospital, because bullets might hit us, as firing was now everywhere.
Category: Sudan